According to the internet, I wasn't the only person who wondered what those red circles were on Olympic swimmer Michael Phelps' shoulder and back Aug 7. In fact, I bet you didn't even survive the first opportunity to click on a link that said "Olympic champion shows up with strange marks all over body. How they got there MIGHT SHOCK YOU!"

Days into the 2016 Rio de Janeiro Summer Games, it seems implausible you haven't figured out the circles were the result of the ancient therapy practice called cupping, and Phelps is far from the only athlete who participates. The thing is, even after I found out the circles were caused by cupping and read three different articles describing what cupping is, I still didn't get it. So I figured it might be time to visit Jerod Felice, managing partner of FX Physical Therapy, located within the Under Armour Performance Center.
"What it does is it will separate the layers of tissue and loosen up soft tissue, basically," Felice said. "The body is just layers of tissue stacked on each other. The muscle, then there's a layer of fascia, and then another muscle. The cupping will separate those adhesions that kind of bind up the tissue and don't allow the tissue to glide in those grooves. This will help separate that and loosen up those pathways."
Right, sure. But why the red marks?
"Another benefit is pulling blood and some of the chemicals inside those tissues to the surface" Felice said. "It creates blood flow. It's literally a suction cup on the body, and it's pulling that tissue and all the blood underneath to the surface."
Sounds good. Ready to go. Let's get those cups on me; I'll get a silly picture and we'll be on our way to a world record split in the next relay. Well, maybe not so fast. Jerod had already fielded a few calls about cupping because of Phelps' high-profile appearance, so he wanted to make sure he fully explained the method to prevent misinformation.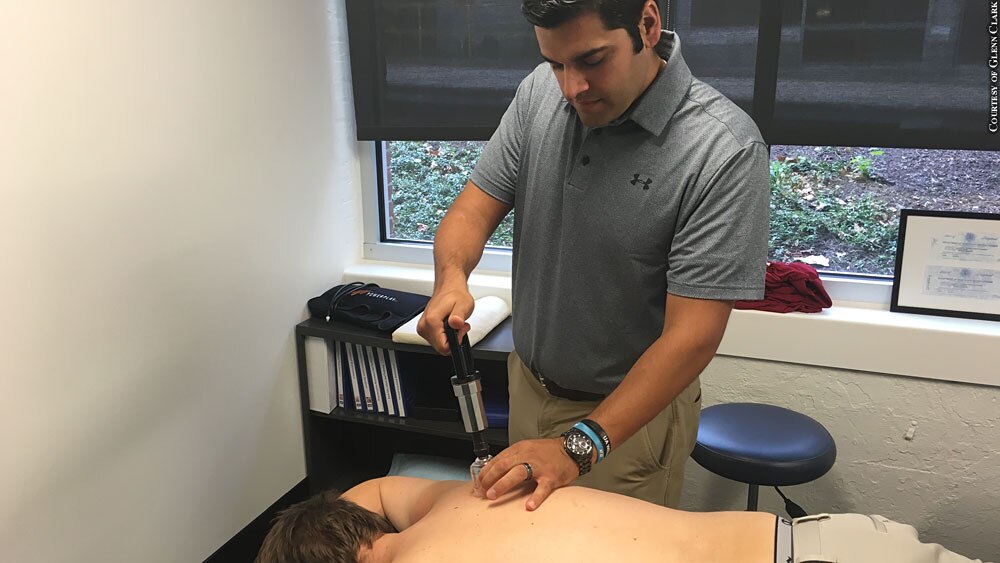 "What I would also like to say about all of these tools that we have here -- they're all just tools," Felice said. "They're a part of treatment. [Phelps] gets a lot of treatment. Every one of our patients does. And that's just one tool in the toolbox. That's one of the bad things about these phenomenons. People just think 'that's all I need'. No, that's a part of everything that he's getting. I'm not going to quote what Michael Phelps is getting, because I don't know personally. Some things that we treat high-level athletes with and patients with [include] dry needling, soft tissue work, including cupping and other manual therapy techniques involving metal tools called astym."

Felice convinced me that, in addition to receiving cupping, I should also try dry needling on the other side of my back. Considering he knows what he's talking about and I was only there because I'm willing to take off my shirt in public, I acquiesced. 
The process itself wasn't terribly invasive. Felice used three cups on my back, telling me every athlete/patient is different in how many cups they receive (and where) based on their threshold for pain. While I felt the pinch of the cup suctioning my skin, I would hardly describe it as painful. However, when the cups were removed, the red circles were undeniable. I was actually contacted by producer M. Night Shyamalan, as he believes he can use them as a major plot point in a future film. (Crazy twist: HE did the cupping!)
As for the dry needling, I actually felt an immediate release of tension near my shoulder blades as the needle entered. The left side of my back experienced more tangible pain, and the improvement was felt more significantly than with the cupping. Keep in mind, of course, Phelps is slightly more athletic than I -- although I bet he's never eaten 32 Chick-fil-A chicken minis in one sitting. 
(Actually, come to think of it, he probably could eat 82. You win this round, Phelps. I bet I could take him in Street Fighter Turbo, though.)
So with therapy in my rear-view mirror, I had one final question. Aside from getting the cool alien hickeys, why do athletes actually do this? 
"What we're learning mostly is that soft tissue is very important," Felice said. "If it's not moving correctly, and the tissues aren't gliding and moving like they should and allowing the joints to move as efficiently as possible, something else is going to become sore and injured. Your shoulder joint would then get sore and injured because there's a restriction in your soft tissue and you're raising your arm over your head. The goal of all of this stuff is to treat everything that's tight -- to loosen it up to get the whole body and system to move as efficiently as possible."

For more from Felice on how cupping works, watch the video below: