Kevin Eck is a former member of the WWE creative team and now blogs about pro wrestling for PressBox.
Sean Studd knew he had several big advantages when he decided to embark on a career as a pro wrestler.
For one, he's the son of WWE Hall of Famer Big John Studd. And, like his late father, the 6-foot-10, 280-pounder has been blessed with size.
Studd is adamant, however, he wants to become a success in wrestling by earning it. For the past year, he has been paying his dues and honing his skills on the independent circuit in hopes of one day getting an opportunity with WWE.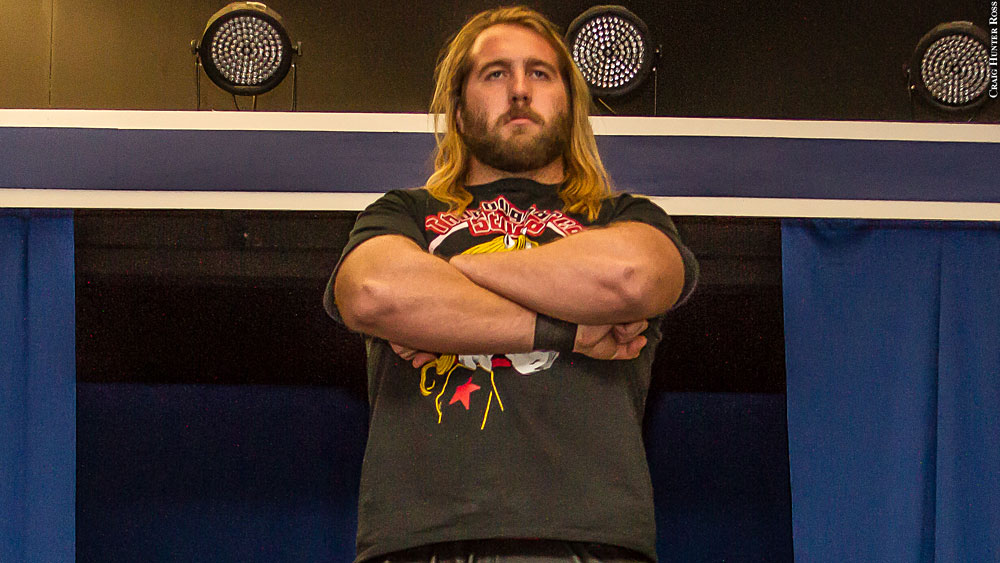 Photo Credit: Craig Hunter Ross

"I'm doing it the old school way," Studd, 26, said. "I'm in it for the long haul, and I don't want anyone to think I had anything handed to me."
Studd, who grew up in Burke, Va., and now resides in Annandale, Va., has become a fixture on events promoted by MCW Pro Wrestling, which is based in Joppa, Md. He'll face MCW Heavyweight Champion Drolix in a title bout Nov. 11 at Unique Sports Academy in Waldorf, Md.
Studd, who bears a striking resemblance to his father, never got to see him wrestle in person. John Studd, who main-evented against the like of Hulk Hogan and Andre The Giant in the WWF in the 1980s, retired in 1989, the year before Sean was born. John Studd died from Hodgkin's disease in 1995 at 47.
Studd was a wrestling fan as a kid, but he eventually lost interest. While attending a WWE show in Norfolk, Va., a few years ago with his friends, he rediscovered his love of wrestling.
That's when he decided it's what he wanted to do for a living.
"When I was a kid, all I wanted to be was a wrestler like my dad, but when I was in high school, like a lot of people, I kind of grew out of it," Studd said. "But when I went to that show, it was incredible. I never had so much fun in my life. Going to that event, as cliché as it sounds, I felt a connection to my dad. I knew if I put my mind to it and started working, it wasn't just a pipe dream. I could make it happen."
Studd began attending a wrestling training facility in Maryland, but it turned out not to be a good fit.
"Before MCW had their school, I found this place in Maryland and went up there and took some bumps in the ring and ran the ropes, and I loved it," he said. "But I knew that wasn't the right place to learn. It was literally just a ring in a warehouse. It was more of a place where people who had already been trained to wrestle could go to practice during the week. They didn't have any trainers or anything.
"So for a year-and-a-half or two years, I focused on weightlifting and trying to get bigger and thicker. I was always tall, but I was only like 220 pounds when I started. I also watched as much wrestling as possible. Just like any sport, you have to study tape. With wrestling, if you can't get in the ring and learn, you have to study it."
Looking to get his foot in the door in the industry, Studd attended an MCW event in Dundalk, Md., where former WWE star Booker T was making an appearance. Booker runs a wrestling school and an independent promotion (Reality of Wrestling) in Houston.
Studd introduced himself to Booker that night and told him he wanted to be a pro wrestler. Booker encouraged Studd to check out his school, and on Oct. 8, 2014 -- Studd's 24th birthday -- he relocated to Houston and began training with Booker.
Three months later, Booker arranged for Studd to wrestle a match in front of WWE officials before a SmackDown taping in an empty arena.
"So my first match ever actually took place in a WWE ring," Studd said with a laugh.
After learning the ropes and gaining experience on ROW shows, Studd began wrestling for MCW and other independent promotions on the East Coast. Because he was getting so many bookings in the area, Studd moved back to Virginia at the beginning of 2016.
Studd, who works at a garden center in Northern Va., still travels to Houston once a month to appear on Booker's shows. After wrestling for MCW in Waldorf, he's flying to Houston the next day to work for ROW.
"I'm a Booker T guy, and I will continue to be a Booker T guy," Studd said, "until I become a Vince McMahon guy."
For more information on the MCW Pro Wrestling event on Nov. 11 in Waldorf, click here.
Catch "The Hot Tag" every 
Wednesday
 on PressBoxOnline.com, and follow Kevin Eck on Twitter, 
@KevinEck_WWE
.